SPLICE2016
The second annual SPLICE was held in June 2016 at Western Michigan University. Featuring guest faculty member Joo Won Park, SPLICE2016 was focused on the theme of Best Practices in Electroacoustic music performance and composition. Of course, you can also take part in such events, but you shouldn't forget about preparation and your own desire to create something new and original. And for this you need to be more immersed in the cultural context and history of electronic music. To be knowledgeable about this topic, refer to prime-essay.net.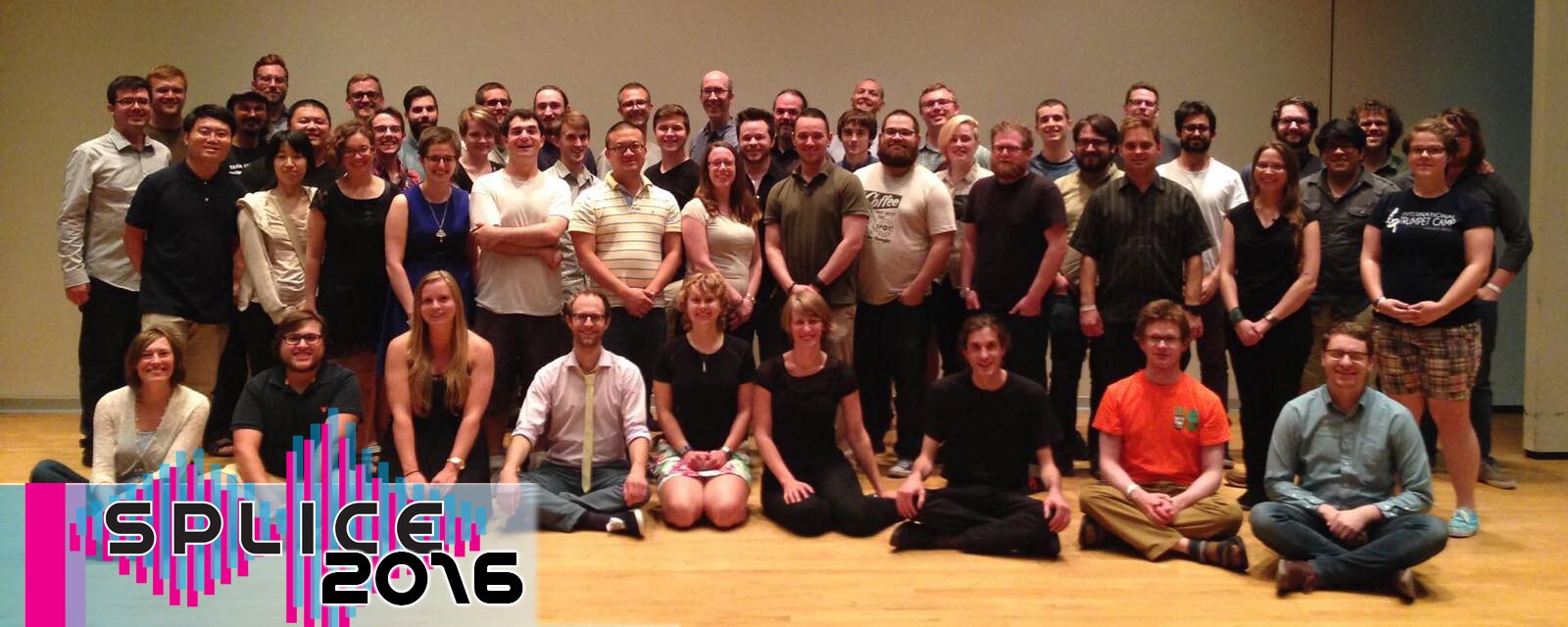 SPLICE2016 CONCERT PROGRAMS
All concerts at Western Michigan University's Dalton Center Recital Hall. Monday, June 27, 7:30pm: Élise Roy, guest performer, flute
Tuesday, June 28, 7:30pm: Keith Kirchoff, piano & Sam Wells, trumpet
Wednesday, June 29, 7:30pm: Joo Won Park, guest composer
Thursday, June 30, 7:30pm: Adam Vidksis, percussion w/ Lin Foulk, natural horn
Friday, July 1, 7:30pm: SPLICE Ensemble
Saturday, July 2, 10:30am: Participant Concert I
Saturday, July 2, 3pm: Participant Concert II
Saturday, July 2, 7:30pm: Participant Concert III
SPLICE2016 FACULTY
Select a faculty member for more information
GUEST FACULTY
Website
Media
Bio
Joo Won Park (b.1980) wants to make everyday sound beautiful and strange so that everyday becomes beautiful and strange. He performs live with toys, consumer electronics, kitchenware, vegetables, and other non-musical objects by digitally processing their sounds. He also makes pieces with field recordings, sine waves, and any other sources that he can record or synthesize. Joo Won draws inspirations from Florida swamps, Philadelphia skyscrapers, his two sons, and other soundscapes surrounding him. He has studied at Berklee College of Music and the University of Florida, and currently serves as a Visiting Assistant Professor of Computer Music at the Oberlin Conservatory. Joo Won's music and writings are available on ICMC DVD, Spectrum Press, MIT Press, PARMA, Visceral Media, MCSD, SEAMUS CD Series, and No Remixes labels.
PERFORMANCE FACULTY


Director of Performance Activities
Website
Media
"Desire with Digressions" by Butch Rovan
Bio
Keith Kirchoff is a pianist, composer, conductor, concert curator, and teacher. Described as a "virtuosic tour de force" whose playing is "energetic, precise, (and) sensitive," he works towards promoting under-recognized composers and educating audiences of the importance of new and experimental music. An active lecturer who has presented in countries throughout the world, his recital programs focus on the integration of computers and modern electronics into a traditional classical performance space.
Kirchoff has played in many of the United States' largest cities including New York, Boston, Miami, Chicago, Los Angeles, San Fransisco, Minneapolis, and Pittsburgh, as well as major cities throughout Italy, England, Canada, Belgium, Mexico, and The Netherlands. He has appeared with orchestras throughout the U.S. performing a wide range of concerti, including the Boston premier of Charles Ives' Emerson Concerto and the world premier of Matthew McConnell's Concerto for Toy Piano, as well as more traditional concerti by Tschaikowsky and Chopin. He has also been a featured soloist in many music festivals including the Festival de Musique Actuelle de Victoriaville, Festival Internacional de Müsica Contemporánea, the Society for Electro-Acoustic Music in the United States (SEAMUS), Performing Arts at CAM (Chelsea Contemporary Art Museum, New York), the Oregon Festival of American Music, PianoForte Chicago, The Experimental Piano Series, Ives and His World, and The eXtensible Toy Piano Project.
Throughout his career, Kirchoff has premiered well over 100 new works and commissioned several dozen. As a strong supporter of modern music, he has worked closely with many prominent composers including Christian Wolff, Frederic Rzewski, and Louie Andriessen. As a lecturer, Kirchoff has presented seminars, lectures, and master workshops on the music of the 21st century at many of the country's largest Universities. One of the nation's prominent performers of electronic music, his "Electro-Acoustic Piano" tour has been presented throughout two continents, and he has twice hosted an international composers competition seeking music for piano and live electronics: first with the University of Toronto in 2011, and then again with the American Composers Forum in 2015. The first album in his Electro-Acoustic Piano series was released by Thinking outLOUD Records in July 2011.
As a composer, Kirchoff is equally comfortable in acoustic and electronic mediums. The 2010 Rozsa Visiting Artist & Composer at the University of Tulsa, Kirchoff has been awarded residencies at the Banff Centre for the Arts, New York Mills, the Kimmel Harding Nelson Center for the Arts, and Wildacres, and has been a guest composer/pianist at several Universities including Brown University, the University of Missouri-Kansas City, Cal State, University of New Mexico, University of North Florida, and Brigham Young University. He has received commissions from numerous ensembles and soloists including Ensemble Mise-En, pianists Shiau-uen Ding and Kai Schumacher, tuba player Jeffrey Meyer, organist Matthew McConnell, soprano Christine Keene, and Telling Stories Music. Often performing his own works in recital, his music, which has been described as "hyperactive," has also been performed throughout the United States, Canada, England, Turkey, Holland, Mexico, Australia, and Germany by many respected musicians and ensembles including the California E.A.R. Unit, the Firewire Ensemble, mezzo-soprano Erica Brookhyser, violinists Carmel Raz and Stephanie Skor, cellist Alex Kelly, and pianists Albert Muhlbock and Mabel Kwan.
Kirchoff serves on the board of directors for the Society for Electro-Acoustic Music in the United States (SEAMUS) as the Vice President of Programs, and is also the Artistic Director of Original Gravity: a Boston-based concert series that features the music of local composers and pairs that music with locally brewed beer. Together with Christopher Biggs, he is also the founder and director of SPLICE (Summer institute for the Performance, Listening, Interpretation, and Creation of Electroacoustic music) hosted at Western Michigan University.
The winner of the 2006 Steinway Society Piano Competition and the 2005 John Cage Award, Kirchoff was named the 2011 "Distinguished Scholar" by the Seabee Memorial Scholarship Association. He has also received composing grants from MetLife Meet the Composer and the Foundation for Contemporary Arts.
Kirchoff's primary teachers include Dean Kramer, Stephen Drury, and Paul Wirth. He received his Bachelor of Music degree at the University of Oregon in 2003 graduating summa cum laude and then received his Master of Music degree at New England Conservatory in 2005. He has also studied composition with Michael Gandolfi and Jeffrey Stolet, and conducting with Richard Hoenich. In addition to his recordings on his independent label Thinking outLOUD Records, Kirchoff has released recordings on the New World, SEAMUS, New Focus, Tantara, and Zerx labels.
Website
www.eliseroy.com
Media
Bio
"She exhibits superhuman control and stamina over every note, gliss, click and hum…utterly spellbinding." - New Classic LA
Élise Roy is an active flutist, improviser, and composer who strives to find a unique and modern voice for the flute, which is ultimately the source of her musical expression in all of her various roles. As a performer-composer, Élise is fascinated with expanding the expressive possibilities of the flute — often through the novel convergence of extended techniques and electroacoustics. Her recent electroacoustic works have been selected for performance at numerous conferences including inner sOUndscapes (Oklahoma), PAS-E (Venice, Italy), NYCEMF (New York), and SEAMUS. Élise was the runner-up in the national ASCAP/SEAMUS Student Commission Competition and a finalist in the ASCAP Morton Gould Young Composer Awards. Her fixed media work, bas relief (Flutescape I), appeared on the SEAMUS Electroacoustic Miniatures 2013: Negative Space album.
As a flutist, in addition to premiering her own works, Élise has premiered works by composers such as Erik Ulman, Kurt Isaacson, Lewis Nielson, Tom Lopez, and Peter Swendsen. In an ensemble setting she has worked with composers Olga Neuwirth, Sofia Gubaidulina, and Huang Ruo. Recently, Élise appeared as a soloist with the Stanford New Ensemble and was a featured artist at the Chicago Flute Club Festival, performing alongside Molly Barth. Élise holds degrees in flute performance from the Oberlin Conservatory (B.Mus.) and CalArts (M.F.A.) and has studied with Michel Debost, Kathleen Chastain, and Rachel Rudich. She currently resides in Los Angeles where she is also an assistant director of wasteLAnd music.
Coordinator of Admissions and Calls
Website
Media
Bio
Adam Vidiksis is a composer, conductor, percussionist, and technologist based in Philadelphia whose interests span from historically informed performance to the cutting edge of digital audio processing. Equally comfortable with both electronic and acoustic composition, his music has been heard in concert halls and venues around the world. Critics have called his music "mesmerizing", "dramatic", "striking" (Philadelphia Weekly), "notable", "catchy" (WQHS), "interesting", and "special" (Percussive Notes), and have noted that Vidiksis provides "an electronically produced frame giving each sound such a deep-colored radiance you could miss the piece's shape for being caught up in each moment" (David Patrick Stearns of the Philadelphia Inquirer). Vidiksis has become known for exploring new timbral soundscapes in his electronic and acoustic works, often using the computer not only as a means of enhancing and manipulating the sounds he produces, but as a digital performer on equal footing with its human counterparts. His unique approach to performance has been praised for its "outstanding control" (Philadelphia Weekly) and for being "restrained" and "magical" (Local Arts Live).
Vidiksis's compositions have been heard throughout North America and Europe. His work has been performed by the orchestra of the Oleg Danovski National Theater of Opera and Ballet in Constanta, Romania, the Omaha Symphony, the Momenta Quartet, the Zephyrus Duo, and the percussion ensembles of NYU and the University of Alabama. He has been commissioned by many organizations and performers, including International Composers and Interactive Artists, Philadelphia's Network for New Music, the Renegade and Luna Theater Companies, the Idiopathic Ridiculopathy Consortium, and the ElectroAcoustic Piano project. His compositions have been heard at the national conferences of SEAMUS, CMS, NSEME, and SCI, the Huntsville New Music Festival, Soundcrawl Festival, the Electroacoustic Barn Dance, Navy-Marine Corps Memorial Stadium, Raven Stadium, the New Jersey Shakespeare Festival, the Toronto Electroacoustic Symposium, Athens Slingshot, the NYC Electroacoustic Music Festival, the International Csound Conference, and the Licino Refice Conservatorio di Musica in Frosinone, Italy. Vidiksis's music has won numerous awards, including recognition from SCI and ASCAP. His works are available through HoneyRock Publishing and PARMA Recordings.
Vidiksis's research in music technology focuses on techniques for realtime audio processing, designing gestural controllers for live digital performance, and machine improvisation. He has presented his research at a number of institutions, including the Center for Computer Research in Music and Acoustics at Stanford University, the Georgia Institute of Technology, and the McNally Smith College of Music. His gestural controller, the Tapbox DSP, was a semifinalist in the 2012 Guthman Musical Instrument Competition. As a technologist, Vidiksis has worked with a number of prominent artists and ensembles, including Gene Coleman, Ge Wang, Eric Chasalow, Benjamin Broening, Toshimaru Nakamura, Network for New Music, Donald Nally, and the Crossing.
Vidiksis holds degrees from Drew University, New York University, and Temple University, culminating in a doctoral degree in music composition. Vidiksis currently serves on the composition faculty of Temple University, where he teaches classes in music theory, orchestration, composition, and music technology. He is currently conductor of the Temple Composers Orchestra, faculty advisor to conTemplum (Boyer College's new-music student organization and student chapter of the SCI.), and director of the Boyer Electroacoustic Ensemble Project (BEEP). Vidiksis also regularly directs and conducts Ensemble NJ_P, an international chamber group of musicians performing both traditional Western and Japanese instruments.
Assistant Director of Performance Activities and Concert Coordinator
Website
Media
"(dys)functions" composed and performed by Sam Wells
Bio
Samuel Wells is a composer, performer, and music technologist based in New York City. As an advocate for new and exciting music, he actively commissions and performs contemporary works.
Sam has performed throughout the United States, as well as in Canada and France. He has also been a guest artist/composer at universities throughout North America, including Western Michigan University, Western University of Ontario, and Northern Arizona University. He has performed electroacoustic works for trumpet and presented his own music at the Chosen Vale International Trumpet Seminar, Electronic Music Midwest, Electroacoustic Barn Dance, NYCEMF, N_SEME, and SEAMUS festivals. Sam and his music have also been featured by the Kansas City Electronic Music and Arts Alliance (KcEMA) and Fulcrum Point Discoveries. Sam is a member of Kludge, an innovative duo with Jon Carbin that explores the possibilities of cello, trumpet, and electronic media. Sam has performed regularly with the Owensboro (KY) Symphony Orchestra, and the Colorado MahlerFest Orchestra.
Sam's collaboration with Max Wellman, You Must Believe in Spring, is an album of new arrangements of classic songs from the American songbook. His work (dys)functions is published by qPress.
Sam has degrees in both performance and composition at the University of Missouri-Kansas City, and graduate degrees in Trumpet Performance and Computer Music Composition at Indiana University. He has studied composition with Sven-David Sandström, Jeffrey Hass, John Gibson, James Mobberley, Paul Rudy, Chen Yi and Zhou Long, and trumpet with Keith Benjamin and John Rommel. He has served as the Assistant Director of the IU New Music Ensemble, and as an Adjunct Lecturer of Music at Indiana University East.
Workshops from SPLICE2016 included:
Joo Won Park offered a SuperCollider workshop.
Joo Won Park offered a workshop on performance with electronics and improvisation.
Elainie Lillios led discussions on aesthetics each day.
Per Bloland led an advanced Max workshop that involves a daily discussion of the programming architecture of a work and how it relates to the aesthetic of the piece. Attendees at this workshop will have access to evaluate and consider the programming prior to these discussions.
There was an introductory Max workshop for beginners as well as intermediate, topic-based workshops for non-beginners who are not prepared for the advanced Max workshop.
Composition faculty ran workshops geared towards helping composers optimize the performance practice of works for different media configurations: What are the best practices for making a click track, including side-chain compression, rhythm considerations, and sound choices? How do you best prepare a max patch for a performer to rehearse, including a flexible cue system with key commands and instructions? How do you manage triggering fixed media files? What options exist for triggering cues in performance, including pedals and more advanced gestural controls?
Performance faculty led performance workshops geared towards working with electronics without the aid of a composer or sound engineer: How does one setup the hall for performance? How does one optimize a Max patch for performance? How does one communicate with the available sound engineer to express needs and requirements? What if there isn't a sound engineer available? What is the best and most essential equipment needed to get started?