SPLICE2015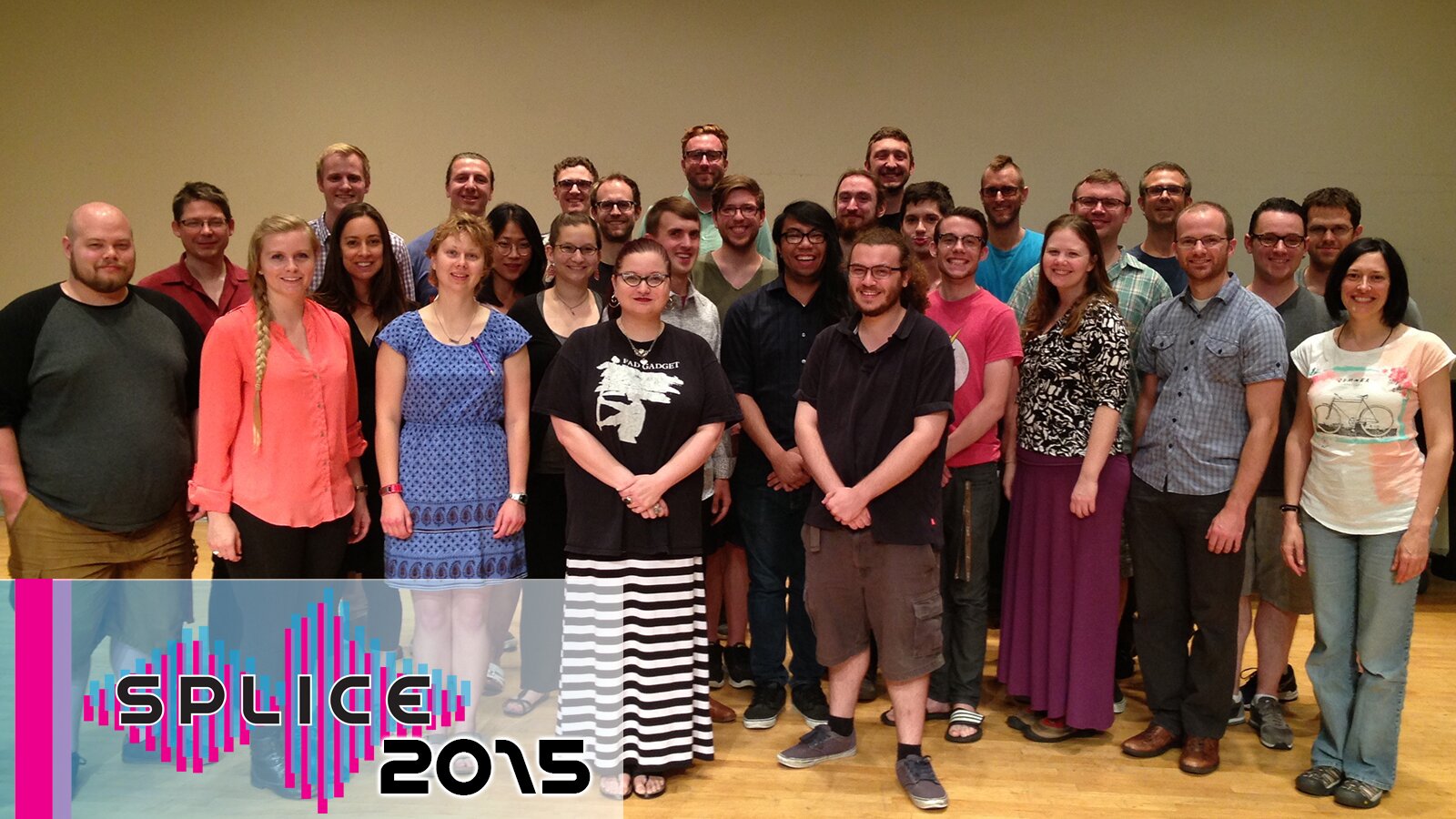 The first SPLICE was held in July 2015 at Western Michigan University. Twenty-two participants and auditors joined the faculty (listed below) to discuss, create, and perform Electroacoustic music.
SPLICE 2015 included eight concerts (programs linked below), which featured a total of fifteen world premieres. Of those fifteen, twelve were composed by participants, three by faculty. Faculty performed ten of the premieres, and participants performed five.

If you want to join a similar festival in the future, but are worried about your skills, there are a few things to keep in mind. First, critically evaluate your skills: try to perform, publish to find out how the audience reacts to it. Second, ask friends and teachers for advice on what you need to change or refine. Third, buy letter of recommendation. Fourth, try to calm down and finally submit your application.

SPLICE2015 CONCERT PROGRAMS
July 6. Faculty Concert I - Keith Kirchoff, piano
July 7. Faculty Concert II - David Wetzel, clarinets
July 8. Faculty Concert III - Samuel Wells, trumpet
July 9. Faculty Concert IV - Adam Vidiksis, percussion
July 10. Chamber Music Concert - Faculty Ensembles
July 11, 11am. Participant Concert I
July 11, 3pm. Participant Concert II
July 11, 7:30pm. Participant Concert III
SPLICE2015 FACULTY
Select a faculty member for more information
GUEST COMPOSER
Website
Media
"Among Fireflies" Performed by Erin Lesser
Bio
Elainie Lillios's music reflects her fascination with listening, sound, space, time, immersion and anecdote. Her music explores many sound worlds; sometime referential ones such as the human voice, cars, wind chimes, or water. Other times her materials are less obvious, like crunching branches, walking through snow or pebbles shuffling in water. Her compositional output includes electroacoustic and acoustic works, music for instruments with live interactive electroacoustics, and collaborative immersive multimedia audio/visual installation environments. Her research interests include sound diffusion as the performance practice of electroacoustic music, audio spatialization employing Ambisonics (3D audio), critical listening as a creative aid and Deep Listening.
Her creative work and research has been funded through grants and commissions from organizations including the International Computer Music Association, La Muse en Circuit, New Adventures in Sound Art, Reseaux, ASCAP/SEAMUS, Kalamazoo Animation Festival International, Louisiana State Universitys Center for Computation and Technology, Sonic Arts Research Centre Belfast, Ohio Arts Council, Mid-American Center for Contemporary Music, Ohio Board of Regents and National Foundation for the Advancement of the Arts. She has also received commissions from individual performers including saxophonist Steve Duke, soprano Diane Ragains and pianist Thomas Rosenkranz. Elainies composition,Veiled Resonance for soprano saxophone and live, interactive electroacoustics was recently awarded First Prize in the 36th International Competition of Electroacoustic Music and Sonic Art/Bourges 2009. Elainies music has received other awards and recognition from international competitions including the Concurso Internacional de Musica Electroacustica de Sao Paulo, Concorso Internazionale Russolo, Concours Internationale de Bourges, Pierre Schaeffer Competition, Kalamazoo Animation Festival International and La Muse en Circuit Radiophonic Competition.
Her pieces have been presented nationally and internationally at conferences, concerts and festivals including the International Computer Music Conferences (New York, Belfast, New Orleans, Miami, Goteborg, Cuba, Berlin), Society for ElectroAcoustic Music in the United States National Conferences (Minnesota, Indiana, Utah, Iowa, Oregon, California, Arizona, Louisiana, Texas, New Hampshire), Australasian Computer Music Conference, Festival di interpretazione della musica acusmatica and others.Her collaborative animation work has been screened at international festivals including SIGGRAPH 2009, Melbourne Animation Festival, London Animation Festival, Les Sommets du Cinema DAnimation de Montreal, Visual Music Marathon, Red Stick Animation Festival, Kalamazoo Animation Festival International and the International Digital Media Art Association IDEAS Festival. She has been featured as a special guest composer at the Groupe de Recherches Musicales, Rien a Voir, festival lespace du son, June in Buffalo Festival, Mountain Computer Music Festival, Future Music Oregon, Western Oregon University Electronic Music Festival, Louisiana State University and Ionian University Corfu.
Elainie's music is available on the Empreintes DIGITALes, StudioPANaroma, La Muse en Circuit, and SEAMUS labels, and is included in New Adventures in Sound Arts The Radio Art Companion. Three of her pieces were released in 2009; Veiled Resonance for soprano saxophone and live interactive electroacoustics on SEAMUS Volume XVIII, Toronto Island Contrasts on Deep Wireless 6, and Listening Beyond the LMJ Mix on Leonardo Music Journal Volume 19.
Elainie serves as Professor of Composition and Coordinator of Music Technology at Bowling Green State University in Ohio where she teaches applied composition, music technology and experimental digital audio and animation.
COMPOSITION FACULTY
Website
Media
"Greed" Performed by Abderrahman Anzaldua
Bio
Dr. Christopher Biggs is a composer and mulitmedia artist residing in Kalamazoo, Mich., where he is assistant professor of digital composition at Western Michigan University. Biggs' recent projects focus on integrating live instrumental performance with interactive audiovisual media. In addition to collaborating with artists in other disciplines on projects, he treats all of his works as collaborations between himself and the initial performing artist by working with the performers during the creative process and considering their specific skills and preferences.
Biggs' music has been presented across the United States and Europe, as well as in Latin America and Asia. His music is regularly performed on conferences and festivals, including the SEAMUS Conference, Visiones Sonoras, Electronic Music Midwest, and Society for Composers Inc. His music is available on Ravello Records, Irritable Hedgehog, and Peanut Shell Productions.
Biggs received the 2008 Missouri Music Teacher's Association composer of the year award, the 2009 SEMAUS/ASCAP first place award, the 2011 MACRO International Composition Award, the 2012 Issa Music and Dance Faculty Award, and a 2013 Kalamazoo Artistic Development Initiative Grant. He was a Preparing Future Faculty Fellow at the University of Missouri-Kansas City from 2007 to 2010.
Biggs teaches acoustic and electronic music composition, electronic music, digital media, and music theory. He received degrees from American University (B.A. in print journalism), The University of Arizona (M.M. in music composition), and the University of Missouri-Kansas City (D.M.A. in music composition). He studied music composition with Zhou Long, Chen Yi, James Mobberley, Joao Pedro Oliveira, Daniel Asia, and Paul Rudy.
Website
Media
Solis-EA
Bio
Per Bloland is a composer of acoustic and electroacoustic music praised by the New York Times for his "ear-opening electronic innovations." His compositions range from intimate solo pieces to works for large orchestra, and incorporate video, dance, and custom built electronics. He has received awards and recognition from organizations including IRCAM, SEAMUS/ASCAP, Digital Art Awards of Tokyo, ISCM, the Martirano Competition, and SCI/ASCAP. He has received commissions from the Guerilla Opera Company, Wild Rumpus, the East Coast Contemporary Ensemble (ECCE), Ensemble Pi, the Callithumpian Consort, Stanford's CCRMA, SEAMUS/ASCAP, the Kenners, Michael Straus and Patti Cudd. His music can be heard on the TauKay (Italy), Capstone, Spektral, and SEAMUS labels, and through the MIT Press. A portrait CD of his work, performed by the East Coast Contemporary Ensemble, is scheduled for release in the spring of 2014.
Bloland is the co-creator of the Electromagnetically-Prepared Piano, about which he has given numerous lecture/demonstrations and published a paper. He is an Assistant Professor of Technology and Music Theory at Miami University, Ohio, and recently completed a five-month Musical Research Residency at IRCAM in Paris. He received his D.M.A. in composition from Stanford University and his M.M. from the University of Texas at Austin.
Website
Media
"Introit" Performed by Sam Wells
Bio
Richard Johnson is a multimedia artist and composer whose interest in music was piqued during a childhood heavily impacted by film. Equal parts Kurosawa and Spielberg combined to create his ongoing interest in culture and history, the music of Takemitsu and Williams, and an obsession with mystery, adventure, and storytelling. This blend of interests is most clearly present in his set of pieces for soloists, electronics, and video entitled Quaerere Sententias.
Richard's music has been performed throughout the United States and internationally, and has been presented at events such as SEAMUS, Electronic Music Midwest, Electro-Acoustic Barn Dance, SCI conferences, Thailand International Composers' Festival, and the Festival Internacional Punto de Ecuentro in Spain.
In 2012, Richard received his DMA from the University of Missouri-Kansas City where he studied with Chen Yi, James Mobberley, Paul Rudy, and Zhou Long. He also holds degrees from the Hartt School at University of Hartford (MM) and West Chester University of Pennsylvania (BM).
Richard is the Assistant Professor of Multimedia Arts Technology at Western Michigan University.
FOR PERFORMERS:
Workshop I: Introduction to Electronics
​This workshop introduces the participant to the basics of performing with electronics. Included is an introduction to common hardware, microphone and speaker placement, and the basics of signal flow. By the workshop's end, the participant will know how to setup for performances and rehearsals.
Workshop II: Introduction to DAWs
This workshop explores performing fixed media pieces, and teaches how to work with a DAW (Digital Audio Workstation) for performance and rehearsal. At the end of the workshop, the participant will be able to navigate four commonly used DAW's (Ardour, Audacity, Logic X, and ProTools), and will know how to apply this knowledge to the use of other DAW's.
Workshop III: Introduction to Max
This workshop introduces the participant to Max: a graphic programming language that is the most common platform for music with live electronics. We will learn basic Max code, learn how to read a Max patch, and learn how to work within that environment. Participants will be able to troubleshoot common problems with Max, build rehearsals patches, and setup interactive works for performance and rehearsal.
Workshop IV: Troubleshooting Part I: Home
This workshop explores how to rehearse and troubleshoot music at home and is the culmination of knowledge gained in the first three workshops. Looking at music for both fixed media and live electronics, the participant will be asked to address problems with faulty patches and find ways to effectively rehearse in a home or studio setting.
Workshop V: Troubleshooting Part II: Performance
This workshop involves troubleshooting during a performance. Various in-hall challenges will be presented, and the participants will be asked to setup for a recital, and then fix problems. By the end of this workshop, participants will have all of the necessary tools to successfully setup, learn, rehearse, and perform Electroacoustic music.
Workshop VI: EARepertoire
This workshop introduces the participants to a brief survey of electroacoustic music that combines instruments and electronics. We will study and listen to major works that integrate a live instrument with electronics and explore the evolutionary history of this medium.
Workshop VII: Interactive Event Manager
​While earlier workshops presented the basic concepts required to be self-sufficient in the performance of electroacoustic music, this workshop will demonstrate more advanced ways to apply these principles in performance and rehearsal. Participants will learn about coordinating individual works or entire concerts within a standard system developed by David Wetzel.
FOR COMPOSERS:
Electronic Music Aesthetics and Repertoire
This workshop will increase participants' familiarity with the vast repertoire of electroacoustic compositions, emphasizing discussion of relevant aesthetic issues. Time will be spent on critical listening sessions in which selected pieces are played in their entirety (time permitting) and discussed in terms of compositional effectiveness, historical place in the canon, and aesthetic decisions, conscious or unconscious, made by the composers.
Effects Processing
For students with previous experience in a Digital Audio Workstation, this workshop facilitates a detailed understanding of filters, dynamics processing, delay-based effects, modulation, distortion, reverb, and FFT. Composers completing this workshop will have the ability to intentionally employ effects for creative purposes.
Introduction to Max
For students with little to no previous experience working in Max or Pure Data, this workshop teaches composers to complete simple, useful tasks in Max and Jitter, such as writing algorithms for processing MIDI information, basic synthesis, and triggering sound files. Student completing this workshop will have the ability to complete simple tasks in Max/MSP, to understand the basic workings of the applications, and think creatively about the possibilities provided by the software.
Intermediate and Advanced Max
For students with previous experience working with Max or Pure Data, this workshop teaches composers the basics of creative interactive works with Max. Composers completing this workshop will be able to create basic interactions between external data sources (sound sources, midi controllers, etc…) and internal data sources (synthesizers, sound files, etc…), and think creatively about generating interactive works.
Live Sound and Event Production
A limited number of composers will receive a reduced participation fee and do live sound reinforcement for the end of the week participation concerts. Composers will learn the basics of live sound reinforcement and event production, including microphones, digital and analog mixers, surround sound speaker arrays, and stage management.